Ah, yes. It's that time again. Time for a break from the winter doldrums in New England. I've been fortunate enough for the last several years to spend a few days each March in the land of Hooters and bizarre police blotter items to get a sunburn and take in some spring training baseball.
I've been making this trip each year with my Dad since 2002, and have seen a number of changes in that time (most noticeably in the popularity of the team and the attendance at games), but many things are reliable constants in this experience: car dealerships, 24 hour pharmacies, early bird specials, and a thriving pawn broker industry.
Each of the ballparks down here has its own personality, some are better than others, but at the end of the day, it's bonus baseball coverage and a foretaste of what the season holds. No other sport has anything quite like it. People take time off from school or their job and travel thousands of miles to pay good money for games that don't count, and to see players that may never see the major leagues.
And yet, it's something thousands of people do, and like me, they look forward to it all year. If baseball is truly something you love, there are two things you need to do before you die: make the pilgrimage to Cooperstown and the Hall of Fame, and travel to Florida or Arizona for spring training baseball. It's a special experience and you'll meet some great people who simply love the game and love to talk about seasons past and the promise of the one about to be.
But enough of the Ray Kinsella stuff. Let's talk about the interesting stuff in Ft. Myers. The first thing I'll say about going to games at City of Palms Park is that once you've been to other spring training facilities, you really get a sense for how hardcore Red Sox fans are. Other fan bases may come close, but the passion of Red Sox fans (even the bandwagon hoppers) is unrivaled.
And the locals try to play up this angle by converting their businesses into memorabilia-bedecked shrines

to the Boston Red Sox (e.g. The Hideaway), hawking bootleg t-shirts outside the stadium and more. We didn't even make it to the ballpark before we ran across a guy selling pretty well-designed A-Roid t-shirts. I can only imagine what they'll be printing up for sale outside of Legends Field in Tampa should a prominent Red Sox player be outed for steroid use.
There's a circus-like atmosphere to the areas immediately outside of the park as well as on the cramped concourses inside the gates. All manner of groups are there trying to get you to sign up for this product, donate to that cause, or buy/sell your tickets with them. My highly scientific survey of scalpers in the area (consisting of one leathery gentleman who looked like he'd rather be tailgating at a Buffett concert) revealed that Standing Room tickets were in demand, and were still going for $30 (thirty) dollars. For a game that doesn't count. Never ceases to amaze me.
No sooner were we through the turnstiles, before we were approached by a trio of comely young ladies who seemed really interested in us accompanying them to one of the local eateries to redeem a coupon for 5 free wings. The Red Sox have really gone above and beyond this year in terms of the City of Palms Park greeters they hired. Well done, Red Sox public relations!
The next order of business is checking the day's lineup posted on the concourse. Masterson gets the "start" that day. Another (thus far) promising product of the farm system who could be a valuable piece of the bullpen this year. Looking forward to seeing what kind of year he has.
Next, we took a quick trip to the (insanely overpriced) souvenir store (thirty bucks for a cap, a hundred and thirty for a golf shirt). My cube at work is more spacious than this store, and it's wall-to-wall people clamoring to overpay for all manner of Red Sox and spring training items. I've kind of gotten to the point in my life where I am Red Sox souvenir-saturated, yet I am compelled to look nonetheless.
After souvenirs it's time to head to the mezzanine overlooking the batting cages and the new mega-tented function/barbecue/VIP area (more on that in a future post). This is a decent perch to grab some candid photos of the players walking between the practice fields, batting cages and clubhouse. VIP's are allowed to mingle with the players here although the rules governing these interactions aren't clear. Today it appears that the people in the tent are there courtesy of Red Sox DestiNations (get it?). Probably not a cheap ticket.
The first real Red Sox sighting of the year comes in the form of the old warhorse, Varitek. Like everyone else on this blog and most others, I'm fairly skeptical as to what his contributions will be to the team from anything but a game-calling standpoint over the next two years. As a wise man once said, "I'd be ecstatic for him to hit .245,'; this is what it's come to. And yet, the sight of Tek in full gear is very comforting to me. He still looks the part and carries himself with a confidence that sends the clear message that he's still the Captain. Seeing him almost immediately upon our arrival, spikes clacking along the pavement as he heads towards the clubhouse anchors the start of the season in something familiar despite the fact that his era is nearly over.
The next notable player to come along is Lester. He is mysteriously carrying what turn out to be a pair of antlers. The significance of this was lost on me at the time, but later that night, when we get back to our hotel, turn on ESPN and learn that he's signed a 5 year, $30 million deal with the Red Sox, it becomes clear what those antlers must've symbolized: he finally landed the big buck(s). Wonder who gave them to him.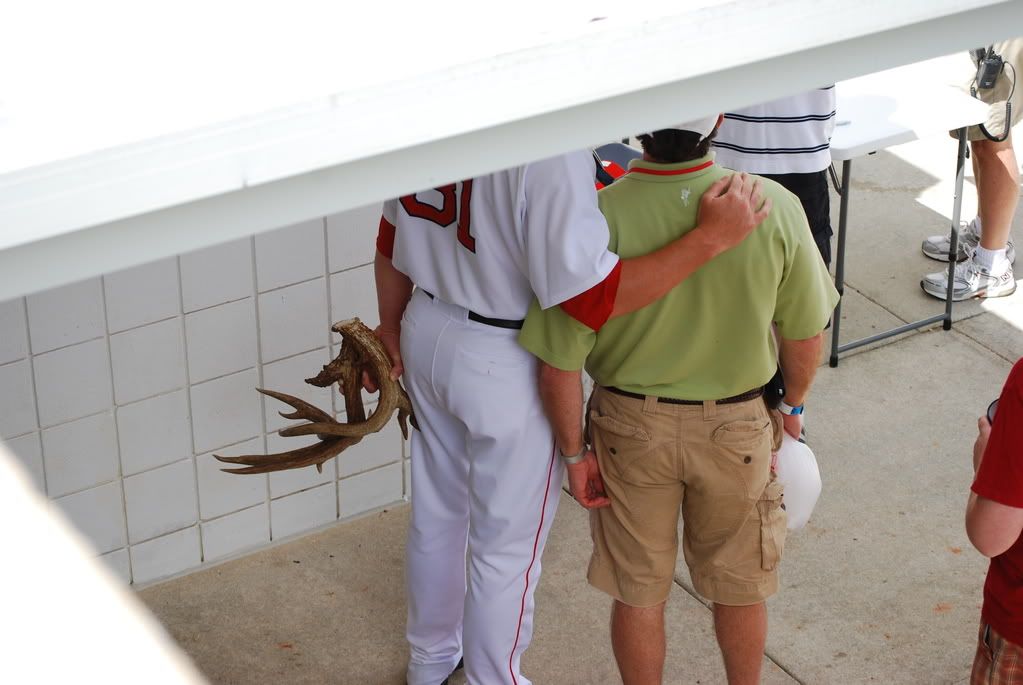 A few more lesser/obscure player sightings and it's already time for the game to start. After a decade of fan apathy, The Devi… The Rays are the talk of South Florida. A good number of their fans are at the game that day, and make their presence known. Seems to me that being such a small market team, their window to reach the mounaintop is relatively short. Once these players reach free-agency, it will be difficult for Tampa Bay to keep them. Still, they're the defending American League Champions…hold on, I need to say that again just to get it to sink in…the Tampa Bay Rays are the defending American League Champions…no, still doesn't register…how about, the Rays won the pennant last year? Nope, I just can't quite get my head around it. Anyway, for some reason, their fans have a bit of swagger they haven't had in the past. And I guess that's good for baseball.
Still, the Rays fans who seem to have more than a passing interest don't care much for we Red Sox types. No siree. Maybe it has something to do with the fact that we essentially have been overrunning their home ballpark every time they host us like an army of marauding Visigoths. Or the fact that they've been the doormat of the AL East for ten years. They've earned their bragging rights, and as long as they keep their cowbells to themselves, we'll be fine.
The game itself was fairly one-sided. Masterson looked strong, Papelbon made one hitter in particular look foolish, and Julio Lugo was raking. Yes, you heard that right. The man was 3 for 3 and looked pretty solid in the field. Maybe it's something about being back in the Florida sun, but he appears to be a man on a mission to keep that starting SS job for himself. Jed Lowrie, consider yourself warned. I can't say that I personally have much faith in him based on the last few seasons. Why should he suddenly be different this year? Plus, Theo's track record with shortstops is somewhat suspect. Consider:
1. Signing the OC was a good move…not resigning him after 2004 is one of those mysteries which I'm becoming increasingly obsessed with: why did that not happen? I've heard speculation about 'off field indiscretions', but even the wags on WEEI won't answer the question directly. What gives there?
2. Then there was Renteria…I'd rather forget our dalliance with him ever happened, especially since I think up until last season, he was still receiving paychecks from 4 Yawkey Way.
3. Alex Gonzalez: another mystery departure. Without question the best defensive Red Sox shortstop of my lifetime. The man was a wizard. No official explanation was ever given for not resigning him either.
There's still a ways to go in the pre-season, but Francona has said publicly that this is Lugo's job to lose. It's unfair to expect Lowrie to be the next Pedroia, but my confidence in Lugo has ebbed considerably since 2007 (yes, despite the fact that they won a World Series with him…10 years ago that'd sound insane to say, but that's where I'm at right now). More updates tomorrow night from the Rays spring training facility as well as from Tuesday's Sox game back at City of Palms. You can follow my updates from Tuesday's game and pre-game activities starting around 10am on Twitter by following @Mueller11.